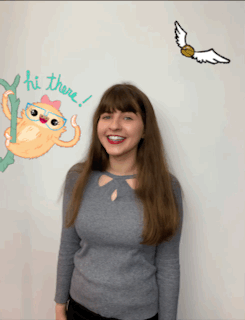 "Hardcore Harry Potter and The Office fan."
FAVE INSTAGRAM ACCOUNT?
@nicole_mist1826 (My mom's 💕)
WORST/WEIRDEST SHOW EXPERIENCES?
Maybe the worst show experience I had was when a 12-year-old boy intentionally put gum in my hair at a production of Hello Dolly. I couldn't get over it for the rest of the show!
I also saw a show called La Divina Caricatura where things got weird, and quickly. This play had, um, anatomically correct puppets, cross-species breeding, and a dog named Rose who had rather inappropriate feelings towards her druggie owner.
WHAT VINE DESCRIBES YOU?
WHAT'S THE BEST 2000S BOP?
Complicated by Avril Lavigne
WHAT'S THE MOST USELESS FACT YOU KNOW?
Gwyneth Paltrow and Chris Martin's daughter is named Apple.
Shows #SEEN: