My First Time: Gino @ #Burlesque - It's theatre dammit!
There are a lot of… underground genres of theatre to explore and discover in dirty-flirty NYC. From subway platform performance art to the Disney Broadway blockbusters, there is certainly SOMETHING out there for everybody.
But what if you're looking for something a little different? You're fiending for a night out at the theatre but you want something a little spicier than Aladdin. So, what about a night of burlesque?
SEEN readers considering the idea of bUrLeSqUe
Yeah, yeah, yeah, I know what you're thinking.
"Ugh, I don't want to pay to watch a bunch of people take off their clothes! That isn't what I conventionally perceive as THEATRE."
Well… maybe it's time to try and open your mind to how expansive theatre is. What more should theatre require than a venue, performers and an audience? Burlesque has all of that. They have the lights, costumes and music… so how is it not theatre? Burlesque is theatre dammit!
And luckily, I got to experience it for the first time with my best friend Lois!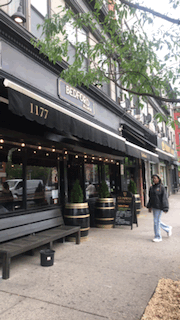 bedford manor came to play
This is Bedford Manor, where Brown Girls Burlesque puts on their monthly show, The Dirty Honey Shake. It's a quick hour chock-full of good drinks, an array of food options and beautiful womxn of color of all shapes and sizes reclaiming their space in society through dance and music. (I use "womxn" as a more gender-fluid and broad term for femme-presenting people in an effort to be more inclusive, instead of assuming all these performers identify as cis women.)
And if you get there early enough, there's a super-cheap happy hour until 8pm!
Once the happy hour ends, the show starts. When you leave the bar, you go through a spooky, secret bookshelf entrance that brings you to the theatre. You're immediately flooded with the sounds of the live jazz band, fronted by one of the burlesque performers (can you say triple threat?)! The waitstaff is super nice and the performers are dauntless. A blast overall!
But burlesque hasn't always been a safe haven for these queens of color. It originated as a comedic intermission or pre-show act to serve as a warm-up for the main attraction. It just so happens that the main attraction was often a minstrel show…
So, yeah… burlesque was not originally created to be taken seriously. But the fact that burlesque is now being made by womxn of color FOR an audience composed of (mostly) womxn of color is such a big step in the right direction. Burlesque isn't the answer to world peace, of course, but the way it boosted the morale of the room is something you can only explain by experiencing it for yourself.
My BFF Lois had thoughts on it too!
Lois: "The women that came out on that stage showed me what it means to embrace your sexuality. They were all different ages, all different builds, multiple shades of black, and each and every one of them owned that stage like they just paid the mortgage off on it. As a black woman, I know sexuality can be complex. The world is constantly telling us that we have no ownership of our bodies. We are constantly getting reduced to our big butts and breasts and then ridiculed for our dark skin, big lips and curly hair. It's tempting to want to hide it all, but the black woman I saw on that stage reclaimed what made them who they are. It was as if they were defining for themselves what made them sexy and then letting the whole world know."
So, this is no longer a "man's art form" (whatever that means), but an art form that is about empowering femme people. Which we can get down with! Considering how inherently oppressive burlesque used to be historically, just the concept of The Dirty Honey Shake is pretty badass. And we have to thank all the brave womxn who began organizing their own burlesque shows, so that it could become less about the man's idea of comedy and sex and more about the womxn's reclaiming of power.
And this reclaiming of an entire art form is the beautiful story that gets told every time that these brave womxn get up there and shake what their mamas gave them.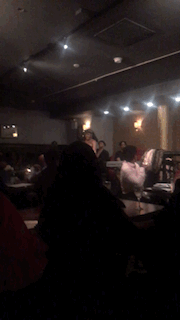 And their mamas certainly supplied them. BAHHDDYYY!
We cannot help but stan burlesque at SEEN, because a whole genre of theatre dedicated to putting money into the pockets of these small businesses and womxn artists is something that everyone should get behind.
Going to The Dirty Honey Shake showed that there is certainly a lot more than meets the eye, especially in these underrepresented and minority-driven art forms. We cannot judge burlesque and similar artistic expressions until we've forced ourselves out of our comfort zones and experienced them for ourselves. With drinks, food and a shamelessly sexy live band, it'd be silly not to make the trek out to Bedford Manor to go support these baddies! :)