POST: 'Our Lady of 121st Street' - My mom, the 58-year old fangirl.
What's it about?
A handful of old students gather together to pay respects to their beloved Sister Rose who has recently passed away. Leading up to her funeral however, her dead body goes missing (i.e. STOLEN). We get an inside scoop on the histories, wounds and secrets of these students as they wait for the police investigation to seize.
My experience.
Writer's note: This post contains direct quotes from my theatre guest, my mama.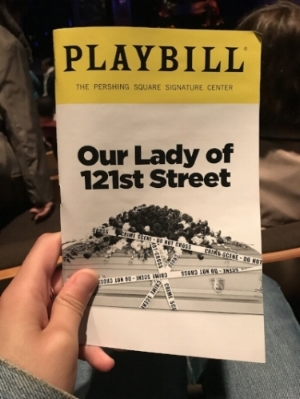 Three years. It has been three years since I last took my mother to a non-Broadway show. And that has everything to do with the fact that she tends to fall asleep during anything that doesn't have alot of singing, bright lights and elaborate dance numbers.
When my best friend - who I originally planned to take to see this due to his experience with the play in high school - told me he couldn't join me for this Saturday matinee, I decided why not take my mom and make a Mother's Day gift out of it.
"You're in charge of picking tickets and this is how far you put us?!"
My entire experience of this show has nothing to do with the show itself. My experience can be summed up by my mom's hilarious commentary. She was taken aback numerous times by the brash and continuous use of curse words throughout the show and it was so funny hearing her "oh my gosh" "again?!" "*gasp*" remarks every single time someone on stage said a "bad" word. She was also less than thrilled that her daughter, who provided us both with comp tickets, would seat us second to last row of the entire house.
"What kind of stupid ending was that?! That's not an ending! We got gypped ten minutes!"
With both of us not too thrilled about the play's ending - her more than me, I was ready to dip up out of there. Waiting around for actors to come out to tell them how great they were and to get a selfie I'd only want to gain bragging rights on social media has lost it's appeal to me. My mom on the other hand couldn't want to get her selfie with Hill Harper, who played Rooftop - our favorite character but also an actor she recognized from a number of her favorite television shows and movies.
To another actor who was in the show as well:
"Hi. Do you know if Hill Harper came out yet?"
This moment had me DYING laughing. She didn't bother to even fake compliment the other guy or acknowledge the fact that he was ALSO in the show with Hill Harper. She just wanted to a selfie with Hill. My mom, the 58-year old, no shame whatsoever, fangirl.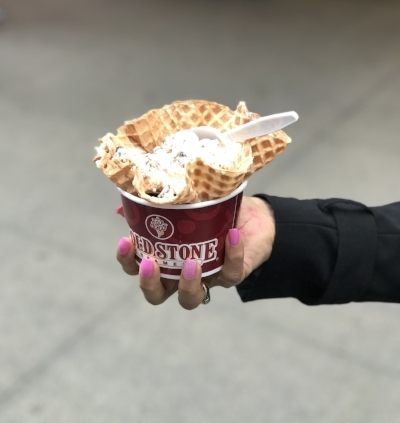 Our day date ended with us getting ice cream from Cold stone Creamery, walking around taking selfies like tourists around Times Square and having buffalo wings (my fav food evah!) for dinner.
This experience to me was more of a highlight of how awesome my mother is. The fact that I was able to mix her hilarious, unapologetic commentary with theatre made an otherwise okay show experience one of my new favorites.
I know Mother's Day is over now but WHO CARES?! If you can, call your mama (or mother-like figure) right now and tell her you LURV her! Or text it if you have phone call phobia like me.
Saw it?
Tell us about your experience.
In the comments below.