Anne #ONSCENE about 'Ohlala' - the sexiest, most insane two hours of my life
My husband and I went to Europe on vacation this summer. We spent a week in France, and though we had plans to do absolutely nothing, but take romantic strolls along the Seine, those plans were quickly dashed when I fell down a ladder (...and then fell down some stairs...) and ended up in a Parisian emergency room with sprained ankle.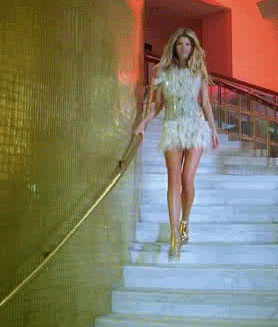 I like to imagine I looked something like this…
But, I probably looked more like this.
Anyway, I left the ER with a big ol'boot on my foot and a bunch of pain meds, we had to rethink our plans. My husband - who knows me SO well - proposed that we go to some sort of show. Well, the Moulin Rouge was out ($150 a ticket? Non merci!), and Crazy Horse (another famous Parisian cabaret) seemed a bit too commercial.
Enter "Ohlala."
We stumbled across tickets for only 15 Euro (roughly $18) and bought two for that very evening. All we really knew was that the show was created by a Swiss circus performer Gregory Knie, and their slogan was intriguing - "SEXY. CRAZY. ARTISTIC." And shit...they were RIGHT.
As soon as I walked through the door, I knew we were in for a something. On either side of the door were these two platforms, with these *super buff* nearly naked men lounging on top wearing these crazy elaborate gold antlers, just...staring at you. And then more of them materialized, and like, followed me to my seat. Not in a creepy way, just in a sexy French way. (Okay, it was a little creepy...but again, in a cool and intriguing way). My husband just laughed at my awkwardness. Side note - apparently in France, it's customary to tip your usher after they seat you? We didn't realize until like, 20 minutes later, when we saw everyone else doing it. Whoops - do your international theatre etiquette research beforehand ya'll!
The audience quickly filled up, and much to my delight, it was all locals! Not a tourist in sight! (Well, except for us). The show started with a woman in the audience standing up and giving a long comedic monologue. Even though it was all in French, I got the gist of it (when is the show starting? Has anyone seen this crazy mask? Oh dear, I'm onstage!). But let me tell you, everyone was loving it! The curtain opened...on the sexiest group of people I've ever seen. Seriously. And for the next two hours, they proceeded to do the most amazing shit I've ever seen in my life.
I mean...look at the muscles on that stage.
I've seen a good amount of contemporary circus, but this was NEXT. LEVEL. The first act were these two girls who did a whole routine in a hoop suspended from the ceiling. Then this guy came out and showed off how flexible he was WHILE BALANCING ON A BARBELL. And of course, everything was at least slightly sexual, but not overly inappropriate. It was just fun! The music was great too - interestingly enough, all of the songs were well known English songs, performed by a live band and a gorgeous girl with an amazing voice.
Then there was this guy who could really hula-hoop...and by that I mean he could use a billion hula-hoops at once and spin them all in different directions. One of the last acts was a roller-skating duo, who could not only stand up on roller skates (so, they've already one-upped me), but they could spin in circles and throw each other around. I was so stressed -  literally thought I was about to watch these two people die. (Spoiler alert - they didn't die).
There was also a lot of dancing, which made me happy! There was contemporary, jazz funk, a bit of hip-hop...all performed by some very talented (nearly naked) people. I was LIVING. And the hubby loved it too! And I quote: "Why can't all the shit we see be as cool as this?"
There was also a sexy thing in a bathtub. How those two performers managed to not fall while being soaking wet, I will never know. Again, I can't even walk down a ladder without falling, which is how we ended up at this show in the first place.
Long story short, when you're traveling, try and see a show. I never would have gotten to see something like this if I hadn't have just thrown caution to the wind and bought tickets to something I had never heard of!
If you have any sexy shows you've been to let us know down below!